In the digital age, finding the right software development agency to bring your vision to life can be a daunting task. With a surge in tech companies, Austin has become a hotbed for these agencies, promising innovative solutions to complex problems.
In this blog post, we take a deep dive into the top-tier custom software development agencies in Austin, exploring their unique offerings, strengths, and success stories. So, whether you're a startup looking to create a ground-breaking app, or a well-established business seeking to revamp your digital presence, this comprehensive roundup review will guide you to the best custom software development agencies that Austin has to offer.
Let's embark on this digital journey to uncover the perfect agency for your bespoke software needs.
Top 7 Custom Software Development Agencies in Austin
1. Appdesk Services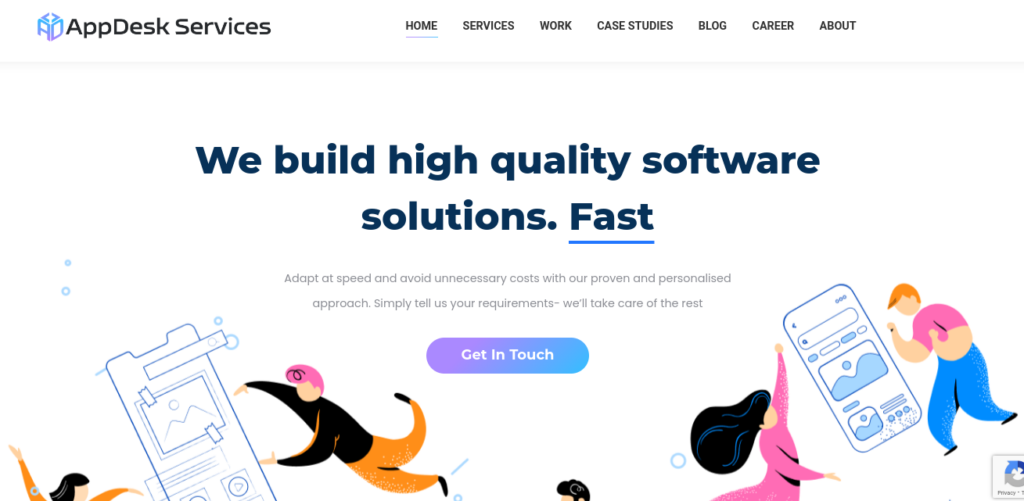 AppDesk Services is a high-performing custom software development agency that places a strong emphasis on tailored solutions, expertise, and customer satisfaction. They excel in providing swift, cost-effective services that adapt readily to clients' needs, offering not just their technical skills but also a commitment to their clients' long-term success. This deep-seated dedication to their clients' vision sets them apart in a highly competitive market.
Services by Agency:
Custom Software Development: AppDesk Services specializes in the design and development of custom software solutions. Their portfolio includes impressive projects such as the creation of custom applications for Slack and Confluence, providing automation for routine tasks, and fostering efficient cross-functional team collaboration.
Candidate Screening Solutions: They demonstrated their innovative approach and problem-solving prowess by addressing the efficiency issue in the recruitment process. They developed a collaborative candidate screening solution that significantly reduced the time and effort wasted on interviewing unsuitable candidates.
Data Engineering Pipeline: The team at AppDesk Services has proven experience in data engineering. For instance, they built a pipeline for a client that required polling, refreshing, and normalizing a large external data source with over 20 million records every month.
Cloud Solutions: AppDesk Services is not only proficient in software development but also in deploying effective cloud solutions. Their expertise spans across a range of cloud platforms and services.
Customer-Centric Development: They take pride in putting their customers' needs first, ensuring their software solutions are intuitive, user-friendly, and address the unique needs of their users. Their dynamic team of engineers is constantly working to create solutions that are directly aligned with their clients' customers' needs.
AppDesk Services is a client-focused, innovative custom software development agency with an impressive range of services. They demonstrate a deep understanding of the intricacies of business operations, using this knowledge to create personalized software and cloud solutions that align perfectly with their clients' needs.
2. 7T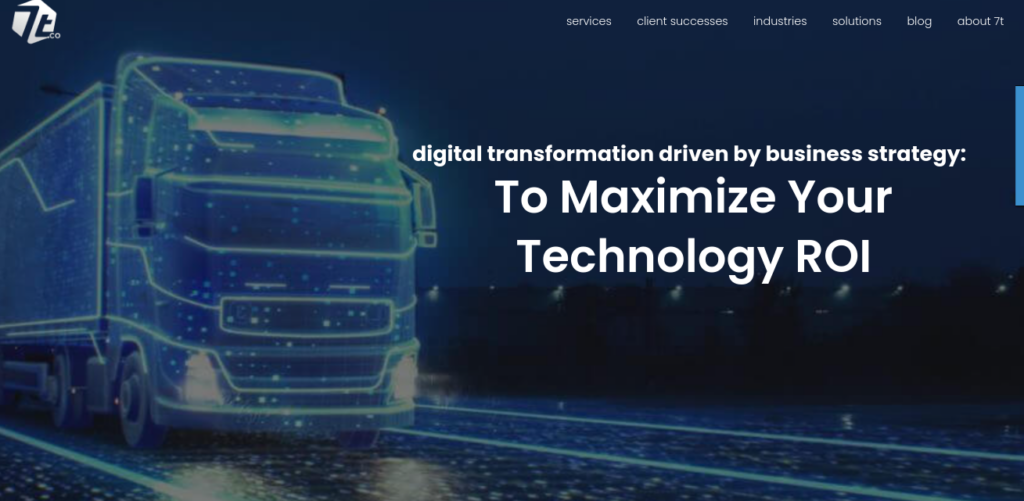 7T is a pioneering software development company based in Austin, Texas, offering a variety of custom software development services under its Digital Transformation solutions umbrella. With a wide range of clientele from startups to Fortune 500 companies, 7T employs a unique blend of business acumen, problem-solving skills, design capabilities, and software engineering proficiency to ensure superior service delivery. Their unique 'Business First. Technology Follows.' philosophy ensures that their solutions are always aligned with their clients' business goals, fostering growth and success.
Services by Agency:
Custom Software Development: 7T excels at crafting bespoke software solutions, including enterprise software platforms such as ERP and CRMs and web-based SaaS platforms. They have helped numerous businesses streamline their operations and boost efficiency through their custom software.
UI/UX Design: With a keen understanding of user paths and overall user experience, 7T places a strong emphasis on UI/UX design. Their team of expert designers and developers collaborate to create engaging, easy-to-use, and dynamic software solutions that enhance user satisfaction.
Mobile App Development and Process Automation: In addition to custom software development, 7T offers companion mobile app development and process automation services. They leverage these capabilities to deliver holistic digital transformation solutions that align with clients' unique needs.
Ongoing Maintenance and Updates: Post-launch, 7T provides ongoing maintenance and updates, ensuring their clients' software stays up-to-date and continues to perform optimally.
Cloud-based Software Solutions: Recognizing the limitations of on-premises storage and computing systems, 7T offers cloud-based software solutions. They merge features from disparate platforms into a single enterprise software system, then leverage cloud data storage and cloud computing capabilities to drive efficiencies.
Discovery Process: 7T's comprehensive discovery process involves on-site visits by members of their leadership team to gain valuable insights into a company's operations. This approach allows them to architect and design software solutions that directly address a company's pain points and maximize efficiency, productivity, and ROI.
7T is a dynamic, innovative software development agency with a strong focus on business-driven digital transformation. Their client-centric, comprehensive approach to software development ensures they consistently deliver tailored solutions that drive efficiency, productivity, and growth.
3. Moov IT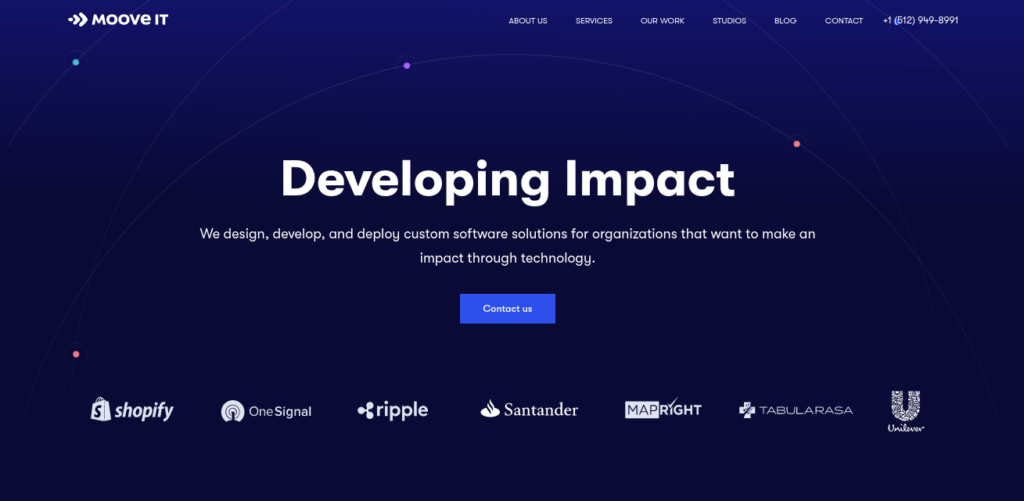 Developing Impact is an ambitious software development company rapidly growing its footprint in the Americas. They strive to create an impact through technology, deploying custom software solutions for organizations with diverse needs. With a high Client Net Promoter Score and a strong focus on fostering a positive workplace culture, Developing Impact underscores their commitment to both their clients and their team. They are audited by PwC and have received recognition as a great place to work, reflecting their dedication to excellence and integrity.
Services by Agency:
Product Discovery: Developing Impact offers a pre-development stage where they design, validate, and test concepts before developing a real product. This process improves efficiency, reduces risk, and ensures the details of the product are meticulously refined.
Team Scaling: For organizations needing to rapidly expand their capabilities, Developing Impact offers a 'plugin' team of dedicated experts. This approach enhances the knowledge and capacity of the client's team, reduces time to market, and upgrades quality.
Digital Experience Design: They specialize in crafting beautiful, high-quality digital experiences and superior interfaces for web, desktop, and mobile devices, transforming ideas into reality.
Product Development: Utilizing Agile development processes, their development team brings products to life with efficiency and precision.
Digital Transformation: They assist established companies in adopting a nimble startup mindset, offering tools and training to stay ahead of the technological curve.
Machine Learning & Data Science: Their machine learning and data science practice supports companies in creating custom solutions to improve business realities. They aid companies in making data-driven decisions, automating processes, and reducing costs.
Developing Impact is an innovative and rapidly growing software development agency with a diverse range of services. Their commitment to understanding client needs, fostering a positive work culture, and using cutting-edge technology sets them apart in the software development industry.
4. ICALIA Labs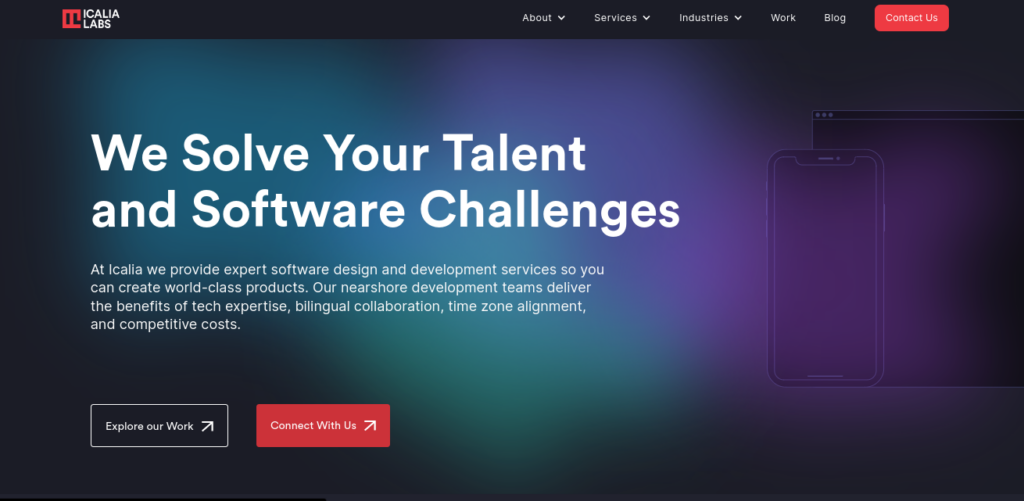 Icalia Labs is a technology-forward software development agency that prioritizes client needs in their pursuit of digital transformation. Founded in 2002, Icalia Labs leverages its deep experience in Agile development to deliver comprehensive custom software solutions across multiple industries. Recognizing the power of nearshoring, they leverage their Mexico-based team to deliver cost-effective, high-quality, and fast results that drive business performance. With a client-focused approach, they help businesses embrace technology to reach their unique objectives.
Services by Agency:
Custom Software Development: Icalia Labs provides end-to-end custom software development services, with an emphasis on scalability. They expertly translate requirements into functional products that deliver results while optimizing the user experience with fresh and intuitive interfaces.
Web & Mobile Software Development: Acknowledging the ubiquity of smartphones, Icalia Labs puts a "mobile-first" design philosophy at the heart of its service offering. They provide cross-platform web applications, websites, and mobile app experiences using both native and hybrid technologies, delivering engaging UI and excellent usability.
Legacy Software Modernization: For businesses burdened with antiquated technology, Icalia Labs offers an efficient approach to modernize legacy software. They minimize risk and time-to-market, improve UX and UI, and promote seamless integration and cloud adoption. They focus on creating an integrated technology environment where data is current, software systems share information, and security risks are managed.
Design Services: Icalia Labs understands the importance of a seamless and purposeful user experience. They prioritize designing products that are visually appealing and fully functional. Their design process includes creating comprehensive products adaptable for future use without compromising user interaction or value.
Digital Design: Icalia Labs offers digital design services tailored specifically for devices. Their design capabilities include web architecture and web page design, mobile-first and/or responsive websites, and project management.
Design Sprints and Workshops: They provide support in solving complex digital challenges, allowing clients to innovate for the future. Their approach includes problem prioritization, aligning the product-market-fit route through prototype solutions, and reducing the risk and uncertainty in the development phase.
Icalia Labs is a seasoned and versatile software development agency. Their commitment to client-centric solutions, Agile development, and leveraging the benefits of nearshoring sets them apart in the field. Their comprehensive suite of services provides robust solutions for clients seeking to thrive in the digital age.
5. Oak-Tree Technologies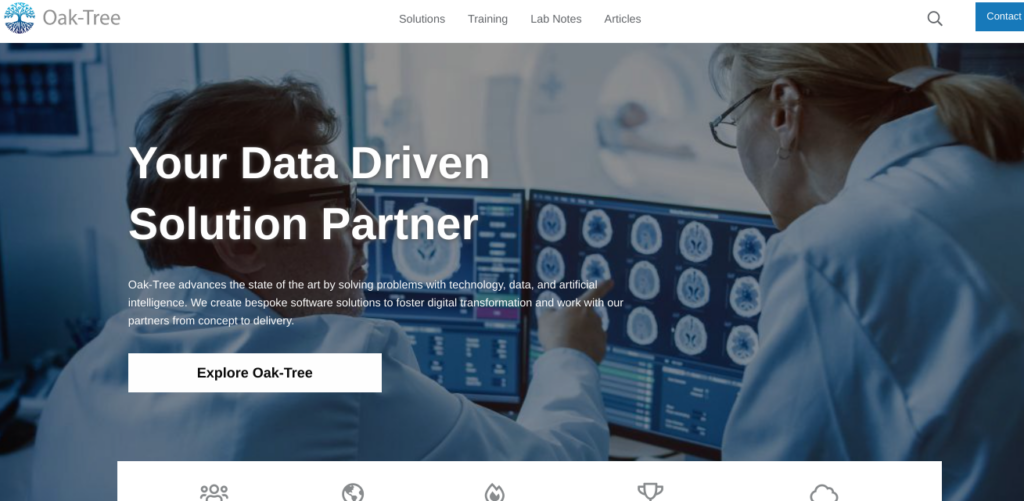 Oak-Tree is a dynamic software development agency, operating at the intersection of technology, data, and artificial intelligence to create bespoke software solutions for digital transformation. From concept to delivery, they assist their partners globally with their multidisciplinary team and rapid software delivery approach. Oak-Tree prides itself on its business expertise, domain knowledge, and ability to deliver solutions quickly. Recognizing the importance of data infrastructure, they work to build client capabilities in software, data infrastructure, and artificial intelligence.
Services by Agency:
Big Data: Oak-Tree offers comprehensive data solutions that enable businesses to consolidate, analyze, enhance, visualize, and integrate their data. They use their expertise to unlock value and insights from data generated by businesses.
Machine Learning & AI: Oak-Tree offers machine learning and AI solutions that help businesses identify hidden trends and insights. They help their clients leverage AI to learn and apply knowledge, thus accomplishing complex tasks more efficiently.
Web Scraping & Data Mining: Oak-Tree provides customized web scraping solutions, delivering data from resources of varying size and complexity. Their approach enables fast data delivery.
Blockchain: Acknowledging the potential of blockchain technology as a secure distributed ledger for data recording and verification, Oak-Tree offers blockchain services for various applications.
Mobile App Development: Oak-Tree provides mobile app development services for iOS, Android, and hybrid platforms. Their team ensures smooth mobile experiences for their clients' user bases.
Web Development: Oak-Tree supports all steps of the web development process, from concept to launch. They bring their expertise to help clients validate their ideas and deliver their projects.
Technical Training: Oak-Tree offers technical training to help teams develop skills in data science, machine learning, DevOps, and Big Data technologies. They ensure that their clients' teams are up to speed with the latest technologies and methodologies.
Cloud & DevOps: Oak-Tree assists in developing end-to-end cloud services, optimizing hybrid cloud, automating deployment, ensuring continuous integration & delivery, backups, and monitoring.
Dedicated Development Teams: Oak-Tree provides dedicated development teams that are committed to the realization of client projects.
Oak-Tree is a future-focused software development agency specializing in technology, data, and artificial intelligence solutions. Their services encompass a broad spectrum of modern development needs, from big data to web development, always keeping an eye on emerging trends and technologies. Their dedication to rapid delivery and developing client capabilities sets them apart.
6.Five Pack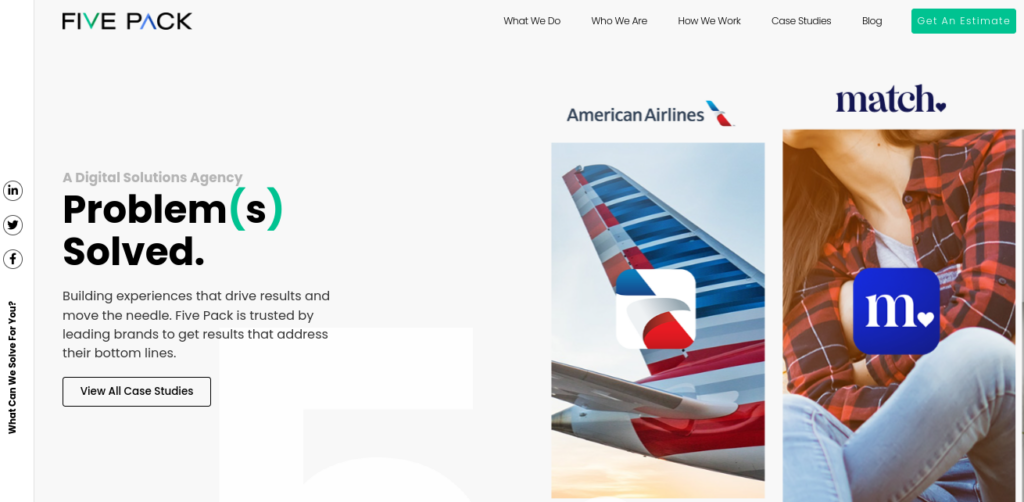 Five Pack is a comprehensive digital solutions agency that focuses on delivering robust experiences that lead to tangible results. As trusted partners of leading brands, they have a proven track record of aligning their services to the bottom lines of their clients. Five Pack positions itself as an innovative player in the dynamic digital landscape, assisting everyone from ambitious entrepreneurs to Fortune 500 companies in shaping their business and industry's future.
Services by Agency:
App Development: Five Pack has a profound love for mobile app development, a passion that's ingrained in their DNA. They provide development services across multiple platforms, including iOS, Android, Flutter, and React Native.
Web Development: Recognizing the persistent significance of the web, Five Pack offers web development services. Their proficiency in various technologies like React, Angular, Vue.js, Node.js, PHP, and C# enables them to build elegant, responsive web apps.
Design & UX/UI: Five Pack provides extensive design and UX/UI services, including branding, user experience research, mobile and web design, as well as proof of concept and prototyping. Their designs comply with the human interface guidelines provided by Apple and Google.
Discovery & Planning: Five Pack offers a wide array of services under discovery and planning, including Launch Lab, user journey mapping, root problem analysis, wireframing, and product road mapping. They take pride in their proven processes for identifying and solving core problems.
Staff Augmentation: Five Pack offers staff augmentation services to help businesses access top talent nationwide. They provide contract, contract-to-hire, and direct placement options. They have a remote work environment that allows them to tap into top-tier talent regardless of geographic limitations.
Five Pack is a versatile digital solutions agency offering a comprehensive suite of services ranging from app development to discovery and planning. They have a proven track record of solving problems and delivering results for their clients, positioning themselves as a trusted partner for businesses of all sizes. Their commitment to finding the best talent and their unique approach to problem-solving sets them apart in the digital solutions industry.
7. Divlement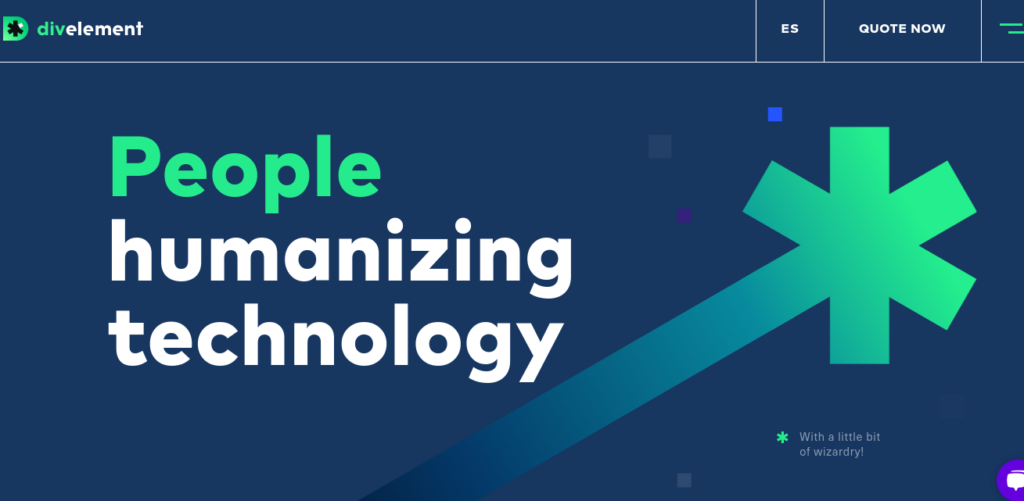 Divelement is an accomplished full-stack software engineering services consultancy that specializes in providing top-notch services using the latest scalable technologies. With a track record of 30 completed projects over 3 years, Divelement focuses on crafting award-winning web and mobile solutions that leave a remarkable impression. Their passionate and dedicated team emphasizes developing and consistently enhancing software tailored to the specific objectives and necessities of their clients' businesses.
Services by Agency:
Web Development: Divelement leverages the latest technologies to provide comprehensive web development services. Their proficiency in HTML5, CSS3, React, Gatsby, Vue, and Next.js showcases their commitment to creating engaging and interactive web experiences.
Mobile Development: Recognizing the crucial role of mobile experiences in today's digital landscape, Divelement offers mobile development services. Their expertise in React Native aids in delivering seamless mobile solutions.
Prototyping / Wireframes: Understanding the importance of early-stage design in software development, Divelement offers prototyping and wireframing services, ensuring their clients' ideas are effectively visualized before development begins.
UI/UX Design: Using tools like Sketch, InVision, and Illustrator, Divelement provides UI/UX design services, crafting intuitive and attractive interfaces that enhance user engagement and satisfaction.
App Operations: Divelement offers app operations services, ensuring the smooth running and maintenance of their clients' apps.
Consulting: Divelement provides consulting services to help their clients make informed decisions about their software development needs.
Their technological stack spans across a multitude of tools and platforms that ensure the delivery of excellent services to their clients. Their back-end technologies include Node.js, Netlify, Contentful, AWS, Serverless, MongoDB, Express, Firebase, and MySQL.
Divelement is an experienced full-stack software engineering services consultancy, offering a variety of services from web and mobile development to UI/UX design. Their commitment to utilizing the latest scalable technologies, combined with their passion for crafting software tailored to their clients' needs, makes them an exceptional partner for businesses seeking digital transformation.
What services do these agencies provide?
These agencies typically offer a wide range of software development services, including web development, mobile app development, UX/UI design, consulting, prototyping, and wireframing. Some also provide specialized services like data analysis, AI and machine learning implementation, and blockchain development.
Do these agencies cater to specific industries?
Many software development agencies cater to a wide range of industries. This includes tech, finance, healthcare, retail, and more. However, each agency might have particular industries they have more experience with or focus on.
What platforms do these agencies develop for?
These agencies typically develop for multiple platforms. This can include web development for various browsers, mobile app development for iOS and Android, and even cross-platform app development using frameworks like Flutter or React Native.
Do these agencies provide ongoing support after project completion?
Most agencies will provide some form of ongoing support after a project is completed. This can range from minor updates and bug fixes to comprehensive service packages that include regular updates, maintenance, and even marketing services.
What size businesses do these agencies typically work with?
These agencies typically cater to a wide range of business sizes, from small startups to large enterprises. They should be able to tailor their services to meet your specific business size and needs.
Can these agencies assist with the app or software launch?
Yes, most agencies can assist with launching your app or software. This can include setting up hosting, submitting mobile apps to the relevant app stores, and even helping with launch marketing.
Remember to always get in touch with the agency directly to get the most accurate and up-to-date information about their services.