In an increasingly interconnected and digitized world, IT project outsourcing has emerged as a compelling strategy for businesses seeking to drive efficiency, cut costs, and leverage global talent.
The "Ultimate Guide to IT Project Outsourcing" is your comprehensive roadmap to navigate the complexities of this dynamic arena. It illuminates the potentials and pitfalls, guides you through decision-making processes, and provides practical tips to ensure successful collaboration with outsourced teams.
Whether you're a seasoned professional considering outsourcing for the first time, or a business leader striving to optimize existing outsourcing arrangements, this guide equips you with the knowledge to make informed and strategic decisions in the rapidly evolving landscape of IT project outsourcing.
What is IT outsourcing?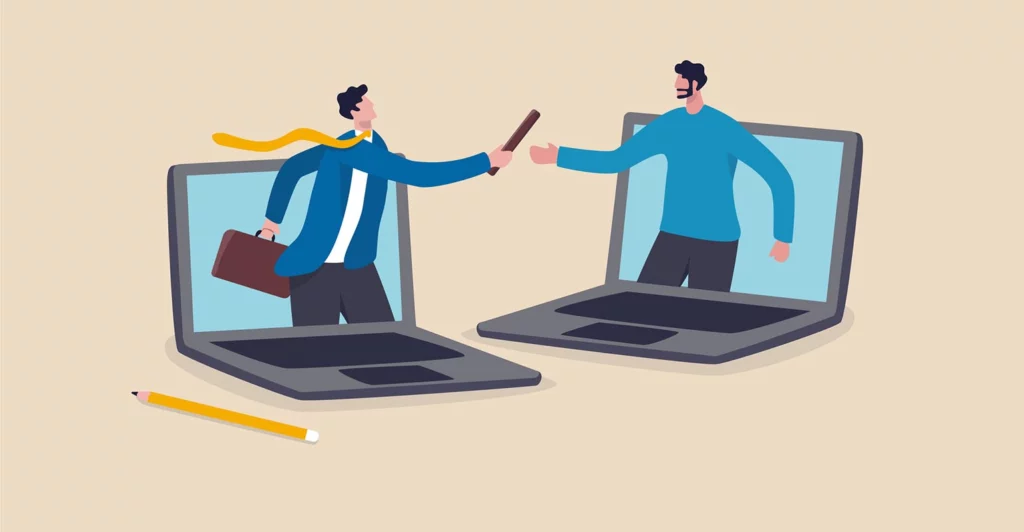 IT outsourcing involves engaging external resources to handle a business's IT needs, ranging from building and maintaining IT infrastructure to developing software.
Typically, IT outsourcing providers offer comprehensive services, the extent of which are determined by the specific needs and capabilities of the client company.
MVP Asia Pacific, an IT outsourcing provider based in the Philippines, exemplifies such a service. This leading firm aids businesses in enhancing their IT abilities, simultaneously making a significant impact on the clients' financial performance.
The most frequently encountered services in the IT realm include:
Developing applications
Providing web hosting
Managing telecommunications
Overseeing data storage
Administering email systems
Ensuring cybersecurity
How Do You Outsource an IT Project?
Despite being a relatively young industry, only a little over ten years old, IT project outsourcing has generated a spectrum of experiences for business leaders. There have been unfortunate tales of projects that ended up delivering completely disparate products than those initially requested. On the flip side, there are inspiring narratives of companies that have not only saved substantially on development costs but also received a superior solution than initially anticipated.
This dichotomy of experiences prompts a crucial inquiry: What missteps did the former group make? What are the determining factors for success or failure in IT outsourcing?
The response to that question might be more straightforward than it appears. Contrary to popular belief, the essence of outsourcing isn't merely about seeking the lowest-priced solution—it's about acquiring the highest return on your investment. In simpler terms, if your aim is to get outsourcing right, your focus should be on cost-effectiveness.
The crucial first step towards accomplishing this is selecting an appropriate vendor. For many, choosing the ideal offshore company can pose a challenge, given the vast number of options available globally. Fortunately, there are specific factors that you can concentrate on, such as:
Efficient Communication and Workflow: Effective communication and workflow synchronization are paramount when outsourcing. Ensure that your software outsourcing partner is proficient in English or your preferred language, and that their work process aligns seamlessly with your workflow during the development cycle.
Right Security Measures: In our progressively tech-centric world, cybersecurity has become increasingly critical. Therefore, ensure that the IT firm you select employs up-to-date security protocols to safeguard all data and software products.
Top rated Software Engineers: Outsourcing software development provides access to top-tier IT talent globally. It is the responsibility of an outsourcing firm to assemble the best software developers in the area and utilize their skills to create the optimal product for you.
Proven Track Record: Always verify references, previous clients, and completed projects of your prospective IT partner. This data offers valuable insights into the IT firm's performance, workflow methodology, and software product quality.
Full package Services: Your needs today may not necessarily be the same tomorrow. The most competent outsourcing companies offer a broad spectrum of specializations, providing a comprehensive and experienced approach to your project.
What Parts of the Project Should Be Outsourced?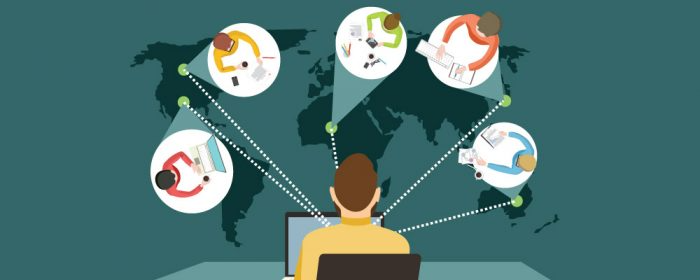 This indeed is an excellent question, and the answer varies depending on your specific situation. The beauty of outsourcing IT solutions is the flexibility it offers: you can choose to outsource any part of the project you see fit.
Some businesses may outsource tasks that require just one engineer for a few weeks to address a specific issue, while others might hire a team of System Architects to revamp and enhance their entire IT infrastructure. Some even go as far as entrusting the entire project to a third party, thereby liberating themselves from the burden of the project entirely.
But that doesn't directly respond to the question, right? If you're contemplating which portions of your project should be outsourced, I'm afraid it's impossible for me to provide a definitive answer without knowing the specifics of your project. However, I can certainly elucidate how the most prevalent forms of outsourcing operate, enabling you to gauge what types of services you might require before you commit to anything.
So, let's dive into exploring the three primary models of IT outsourcing: Delivery Teams, Staff Augmentation, and Project-Based Outsourcing. Also, consider reading our detailed article on the 9 kinds of IT projects you can outsource.
Project-Based Outsourcing
In this model, the vendor takes complete responsibility for the project at hand. An external project manager, with their dedicated team, oversees the execution of the project. Typically, such projects are short-term and technical, demanding quick turnaround times and specialized expertise. The project lead ensures quality control and swift resolution of any obstacles. The business can exert pressure on the outsourced lead for compliance and improved performance. However, this model's primary drawback is the lack of business oversight over project processes, and in-house teams cannot intervene or modify anything beyond the pre-defined terms. Any minor adjustments or changes require an immediate reassessment of the agreement.
Dedicated Team
This outsourcing model involves recruiting a specialized team to work on a project, with the main distinction from project-based outsourcing being the higher degree of management involvement in processes and decision-making. The outsourced team essentially becomes the company's technical and product consultant. Flexibility isn't a concern as the management can guide the outsourced team in the desired direction. This model is particularly beneficial for startups intending to grow with diverse technical requirements. The primary drawback, however, is the increased responsibility on the business to ensure the project's success and adherence to industry standards.
Staff Augmentation
Staff augmentation serves to address specific gaps in a business's current needs. Rather than hiring an entire team, selected professionals are brought on board to supplement areas where the in-house team lacks expertise. The business has the flexibility to hire as many contractors as necessary, making this model ideal for short-term business requirements and adaptable to the company's evolving situation. The main disadvantage lies in the prolonged onboarding process. With constant recruitment, management might find itself more engaged in interviews and onboarding activities than focusing on its core operations.
When Should I Outsource My IT Project?
There are numerous circumstances where outsourcing becomes the most practical choice. Here are some of the most prevalent ones:
Insufficient In-house IT Talent:
With a global shortage of top-notch offshore developers, IT companies employ remote work methodologies to tackle this challenge.
Requirement for Specialized Roles:
Certain projects call for extremely specialized technical roles or temporary positions that may not be appealing to highly skilled developers.
Dealing with Complex Projects:
Handling a complex project demands a significant level of expertise and technical know-how. Without these, you might encounter hurdles and experience unnecessary downtime.
Working Under Tight Deadlines:
Delivering the right outcomes within the stipulated time frame can make or break your project. Offshore developers can amplify your capabilities when required.
Need for Expert Support and Consultation:
Software outsourcing companies offer consulting and support services for ongoing or existing projects that are veering off course.
Aim to Boost Cost-Efficiency:
IT development companies can completely cut the costs associated with hiring in-house personnel while offering equal, if not greater, advantages.
Why outsource IT services?
Outsourcing IT services can bring numerous benefits to a business, regardless of its size or industry. Here are some key reasons why companies choose to outsource their IT services:
Cost Efficiency:
Outsourcing can significantly reduce the cost of maintaining an in-house IT department. These savings can come from reducing expenses related to hiring, training, and maintaining IT staff, as well as costs associated with IT hardware, software, and infrastructure.
Access to Expertise:
IT outsourcing firms have extensive knowledge and experience in a wide variety of technologies, platforms, and methodologies. This enables businesses to leverage top-notch IT expertise that may not be available in-house.
Scalability:
Outsourcing IT services allows businesses to quickly scale up or down based on their IT needs. This flexibility can be particularly valuable in response to changing business conditions or market demand.
Focus on Core Business:
By outsourcing IT services, businesses can focus more on their core operations and strategic initiatives. This can lead to increased productivity and efficiency.
Risk Mitigation:
IT outsourcing firms are often better equipped to handle cybersecurity threats and data breaches. They can also provide data backup and disaster recovery services, which are critical in today's digital world.
Improved Compliance and Security:
Outsourcing firms stay up-to-date with the latest regulations and security standards, ensuring your IT operations remain compliant and secure.
24/7 Support:
Many IT service providers offer round-the-clock support, ensuring prompt resolution of any issues that may arise.
Faster Implementation of New Technology:
IT outsourcing firms can quickly deploy new technology and updates, which could otherwise take significant time and resources if done in-house.
Remember, successful outsourcing depends on finding a reliable and experienced service provider that understands your business's unique needs and can deliver services that align with your strategic goals.
Benefits of IT project outsourcing
Outsourcing IT services is a strategic business decision, akin to other forms of outsourcing. It helps organizations run more efficiently by offloading non-core functions, thereby paving the way for growth.
Vendors or subcontractors take on specific tasks, as outlined in a service contract, complete with defined deadlines and prices. The distinction between IT and other outsourcing services lies in the technological intricacies involved.
IT services necessitate vast experience and technical knowledge, which many businesses may lack. As technology evolves, with advancements in software development and communication tech, IT solutions are becoming more complex and specialized. IT vendors help businesses navigate this complexity.
Advantages of IT outsourcing:
Cost Efficiency in IT Development
Investing in IT equipment, software, and robust security infrastructure can be expensive. By outsourcing, companies can significantly reduce these costs, instead of hiring full-time IT specialists or procuring the technology. It's possible to define a maximum budget for the development and upkeep of IT services, with the main requirement being to find a reputable service provider.
Access to the worldwide Best Talent
IT services, owing to their technical complexities, may not be readily available through local providers. Often, large corporations equipped with a team of technicians, engineers, and other professionals can deliver superior and reliable IT services.
In the absence of local resources, businesses can tap into global talent with proven expertise and experience. The vast availability of professionals worldwide means businesses can secure the best deal in terms of cost and turnaround time.
Online platforms also host individual contractors providing freelance services. These arrangements offer cost benefits but may be limited due to resource and technology availability.
Enhanced Security
One major advantage of comprehensive IT outsourcing is the capacity to create a secure online infrastructure. With digital business transactions becoming more prevalent, company data and confidential information are increasingly susceptible to cyber threats.
Reputable IT outsourcing providers offer more than just service development – they ensure around-the-clock monitoring and implement encryption and advanced security features. Businesses requiring dedicated teams for real-time threat detection and resolution can rely on these IT contractors.
Rapid Implementation
IT outsourcing contractors, equipped with software developers, technicians, and engineers, can quickly develop applications and software tailored to a client's needs. Even for unique and challenging requirements, these experts can deliver customized, user-friendly solutions that align with a business's brand and image.
Best IT project outsourcing regions
Selecting the right region for IT project outsourcing largely depends on a business's specific needs, budget, and cultural compatibility. Several regions across the globe have established themselves as leaders in providing reliable, cost-effective, and expert IT solutions. Here are some of the top regions renowned for their IT outsourcing services:
Poland
Boasting a strong education system, especially in STEM disciplines, Poland offers a vast talent pool of IT professionals. Known for their exceptional programming skills, developers here are well-versed in a variety of modern technologies and languages.
India
As one of the pioneers in IT outsourcing, India is home to a significant number of IT professionals. Offering cost-effective solutions and expertise in multiple tech domains, India continues to be a top choice for IT outsourcing for businesses globally.
China
China has made substantial progress in the tech industry, becoming a powerhouse in the global IT outsourcing sector. It offers an enormous talent pool, advanced infrastructure, and competitive prices.
Belarus
Despite being a smaller player, Belarus has a highly developed IT industry. It offers skilled and experienced IT professionals, a high level of technical education, and favorable business conditions, including a special economic zone for IT companies.
Philippines
The Philippines is gaining prominence in the IT outsourcing sector due to its highly skilled workforce proficient in English and competitive rates. The country's cultural affinity with the West also helps in ensuring smoother collaboration.
It's important to note that choosing the right IT outsourcing region isn't solely about cost; it should also consider factors like language proficiency, time zones, cultural compatibility, and the region's technological infrastructure and legal framework.
What Should Be Practiced for Best Outsourcing?
Just like any other venture, a successful outsourcing journey heavily depends on how well-prepared you are before embarking on it. Implementing the following five practices will put you on the right track for a seamless and value-adding outsourcing experience.
Define Your Objectives:
Certainly, outsourcing services serve as a valuable tool in realizing your company's goals. However, it's crucial that you set these goals for your outsourcing partner to achieve. Having a clear understanding of your aims, your anticipated results, and the timeframe within which you expect these results is crucial for crafting a bespoke technology solution to cater to your needs.
Prioritize Effectively:
It's true that your outsourcing partner will aid in devising a comprehensive roadmap for your project, but it's up to you to provide feedback on the work that has been completed and the tasks that remain. Therefore, you should clearly articulate what is most important to your company and your customers. Ensure that your priorities are in order and remain involved throughout the project's development.
Visualize Your Idea:
In today's world, merely proposing an idea is seldom sufficient to create a successful software solution. It's essential to detail an experience and vividly depict it to your software development partner so they can turn it into reality. The more vivid the vision, the quicker your project can progress beyond the wireframing and sketching stages.
Identify Your Requirements:
Your company's tech stack likely has very specific requirements. Your project, just like any other, will necessitate a team of engineers proficient in that particular tech stack and in your industry. Compile a list of what you'll require from your IT partner and inquire about their service models and technologies to get a sense of how they might fit into your project.
Document Everything:
Service Level Agreements are the cornerstone of outsourcing contracts. If you want to ensure accountability in your project (which you should), it's essential to document everything. Proper documentation accelerates processes and enhances transparency. Your outsourced team will assist you in choosing the optimal solution to achieve your goals efficiently and within budget.
Best Tools to Manage Outsourcing Projects
The tools listed below can help you and your outsourcing service provider ensure that your project advances seamlessly.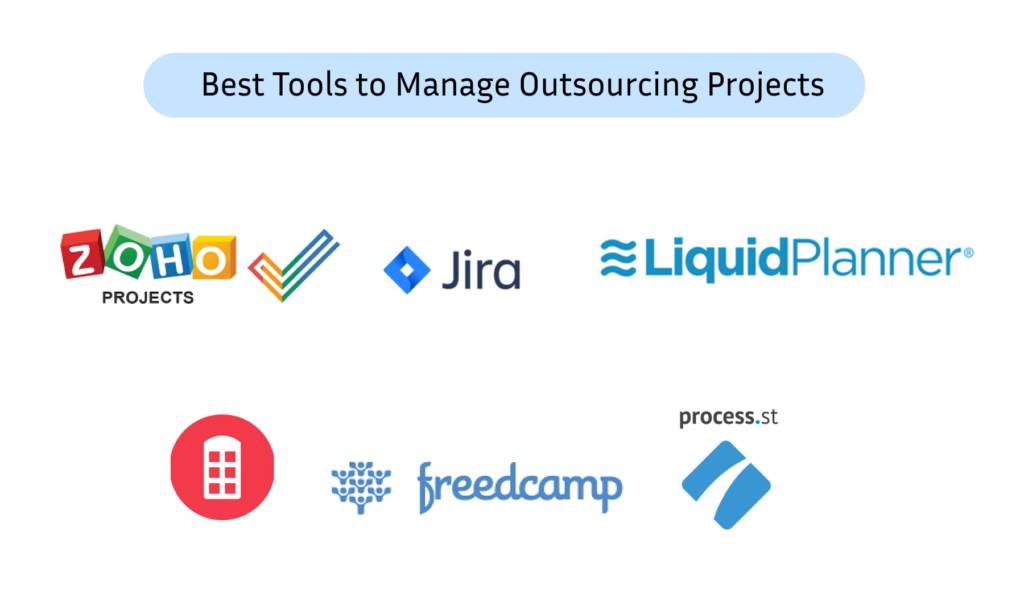 Redbooth:
As an online task and project management tool, Redbooth offers a unified platform for collaborative efforts, including sharing files and holding discussions. Its multi-assignment feature is invaluable for managing tasks and maintaining team-wide visibility.
Jira:
Ideal for software development team management, Jira is a collaboration tool that supports flexible project management from the initial stages of planning through to the launch and release phases. It comes with features that cater to every part of the software development process, making it simpler for you to plan, track, and evaluate your outsourcing endeavors effectively.
Process Street:
This user-friendly project management tool incorporates chat and customer support features, enhancing communication within your team. Process Street integrates with more than 500 applications, allowing you to automate tasks such as scheduling and workflow assignment creation with ease.
LiquidPlanner:
If keeping track of deadlines is a crucial aspect of your outsourced projects, LiquidPlanner might be just the tool for you. This project management tool features a smart schedule that dynamically adapts to changes in the project plan, ensuring teams align tasks, personnel, and priorities to keep the project on track.
Zoho Projects:
Zoho Projects stands out as an intuitive collaboration tool, perfect for small and growing businesses. This cloud-based project management tool is designed with task tracking and team collaboration in mind. It boasts features such as seamless document viewing, real-time collaboration syncing, and the capacity to provide feedback.
Freedcamp:
Tailored for high-performance teams, Freedcamp aids in streamlining workflows, tracking time, and identifying project issues. In addition to its collaboration features, it enables you to set objectives and delegate tasks and subtasks to team members with its intuitive user interfaces that assist in project time management.
Furthermore, these tools often provide reporting features that allow you to monitor your project's progress and evaluate the performance of your outsourced team. They also often come with security measures in place to protect sensitive project information, making them indispensable assets in your outsourcing journey.
Conclusion
efficient project management and collaboration are critical aspects of successfully managing outsourced projects. Tools like Redbooth, Jira, Process Street, LiquidPlanner, Zoho Projects, and Freedcamp offer unique features designed to streamline workflows, enhance team collaboration, and monitor the project's progress. These tools can handle multiple tasks, ranging from automating scheduling to tracking project milestones, and from facilitating real-time collaboration to maintaining security protocols.
Opting for these innovative tools is a smart move in ensuring that you stay on top of your project's progress and milestones, despite working with a team located possibly halfway around the world. Effective use of these tools also promotes transparency, which is a crucial factor in building trust and understanding with your outsourcing service provider.
Therefore, in the era of digital transformation and distributed work, these collaboration tools have become more than just a luxury; they are a necessity. They are instrumental in breaking down barriers, promoting communication, and aligning goals within your project, ultimately helping you attain successful outcomes.